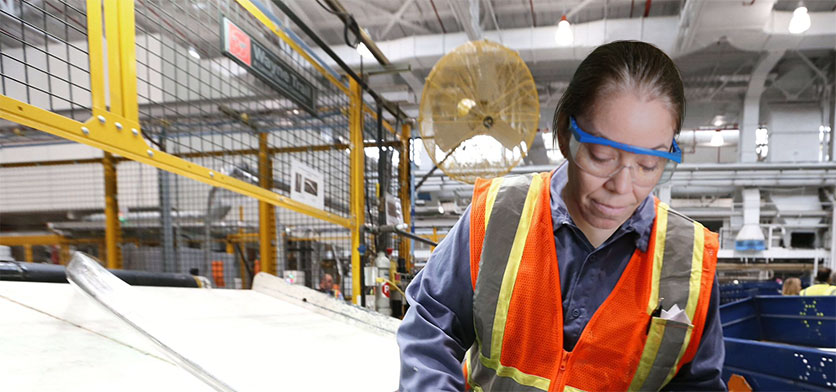 Industrial Air Circulators For Healthy Work Environment
Industrial air circulators are just one way we can make our lives a little safer. There has been increased concern with Indoor Air Quality in our homes, however, one third of our day is spent at work and 90% of working environments are indoors. Some working environments can pose a greater health risk due to heat stress and indoor air pollution, but the use of industrial air circulators is an easy and relatively inexpensive way to maintain a healthy workplace.
Sick Building Syndrome
Modern construction practices have resulted in buildings that are more tightly sealed and more efficient. Without proper ventilation these buildings can be sealing in air contaminants that make workers sick and result in sick building syndrome. Certain types of work environments are more prone to indoor air pollution. Warehouses, manufacturing and even restaurants create "bad air" which can include contaminants such construction materials, adhesives, fiberglass, fuels, paints, chemicals and food odors.
Heat Exposure
Exposure to high heat and humidity can also prove to be a major and costly occupational hazard. Heat stress is not just uncomfortable, it often contributes to a variety of heat-related illnesses including stroke and dehydration and, if the body temperature climbs too high, death can result.
Increased body temperature and physical discomfort promote irritability, anger and other emotional states that can cause workers to bypass safety procedures or to lose concentration while performing hazardous job functions. One of the best ways to reduce heat stress is to minimize heat in the workplace.
Employee Healthcare Costs
Bad air in an enclosed working environment can cost an employer thousands of dollars over a short period of time due to lost time, work-related illness, and health insurance costs. Even simple discomfort can cause increased expenses. Occupational hazards can also result in intervention by government agencies further disrupting the working environment.
Stale, uncirculated air can cause:
Respiratory illness
Eye irritation
Headaches
Fatigue
Nausea and dizziness
Skin irritations
Difficulty in focusing and concentrating
Due to:
Heat exhaustion and humidity
Carbon dioxide from the use of combustive appliances
Carbon monoxide from fossil fuel exhaust, smoke
Adhesives such as glue, caulking
Paint
Ozone from electrical arcing, copy machines
Odors from cooking food, propane fuels, cleaners
Various chemicals used in manufacturing and cleaning
Organic and biological contaminants – mold, pollen, animal dander, insects
Energy Savings
Energy savings can be achieved by using air circulators in both air conditioned and heated spaces. In warm conditions, industrial fans can often eliminate the need for air conditioning by improving thermal comfort in a more natural way. In heated spaces, fans make better use of hot air that accumulates at high levels. With Jan Fan's industrial air circulators further savings are achieved with our powerful, yet very low wattage motors, and with our energy savings module which actually turns fans off when not in use.
Healthy Air Circulation
Industrial air circulators help keep the air moving in order to minimize long-term exposure to contaminants that can cause illness and discomfort. Contaminants are circulated away from the employee at their working level. Fumes are drawn away from the immediate area of the workstation and directed towards ventilation systems, allowing the worker to breathe cleaner, fresher air. Industrial air circulators can also direct contaminated air towards exhaust systems where it is filtered and extracted from the environment.
Good air circulators not only direct bad air away from workers, they help draw fresh air in from outside. Cool air can be directed indoors during warm seasons, humidity can be dissipated during wet seasons and allergens can be removed during seasons of growth and decay.
Increased Production – Decreased Losses
Use of industrial air circulators results in a cyclical pattern of advantages. Happy healthy employees are stronger, have fewer accidents and sick days, and are more productive. They make fewer mistakes minimizing loss or damage to inventory which in turn leads to higher profits and increased benefits for both employer and employee.