IMPORTANT:
Fan Safety – To keep fan from falling, from any cause, in an overhead mount application, it is strongly recommended that a SAFETY cable be installed as per manufacturer's instructions.
FAN SAFETY CABLE KIT:
Model # JF – SCK safety cable kit for use with overhead mounted JAN FANS®. This kit consists of 12′ x 1/8″ cable, 2 cable clamps and installation instructions.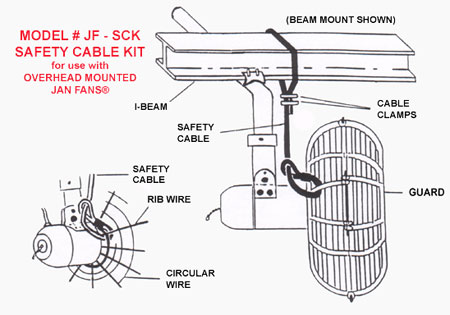 FAN SAFETY INSTALLATION INSTRUCTIONS:
1. Feed 1/8″ cable through the heavy circular wire on rear guard near motor and back out around adjacent heavy radial rib wire then through closed loop end of cable.
2. For extended vertical drops of fan mounting or when mounting beyond factory mount length, safely clamp cable tight to the top of the rigid pipe fan support near building structure in order to keep fan support arm from falling (swinging) down in case of mounting arm failure.
3. Take up all slack so no part of the cable can interfere with the blade.
4. Wrap end of cable around a secure building joist, beam, truss or other support close to the fan assembly. Take up all excess slack in the cable.
5. Attach the cable clamps and tighten very firmly.
6. To avoid Fan/Cable interference remove the excess cable that is remaining (except for 3″ to 4″) after the second clamp has been tightened.
USE CLAMPS PROPERLY FOR MAXIMUM EFFICIENCY
U-BOLTS SHOULD BEAR ON DEAD END OF CABLE

CAUTION:

Wire cable must be inspected regularly for any deterioration which may result in the loss of original strength. User must determine whether further use of the cable would constitute a safety hazard to life or property.