Energy Efficient Long Lasting Fans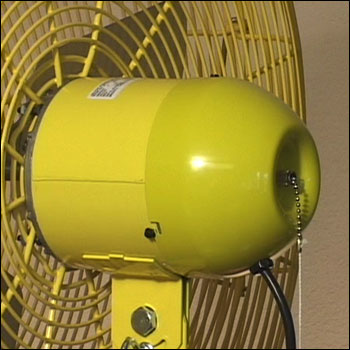 The lowest wattage industrial fans on the market are made by Jan Fan. While its industrial fans are powerful, the company's high quality energy efficient ball bearing motors are manufactured to reduce your operating costs in several ways which include lower monthly electrical bills. The increased reliability and Jan Fan's 5 year manufacturer's warranty also provide savings in reduced downtime, replacement and maintenance costs.
Requiring a nominal 240 watts of power, the energy savings of each Jan Fan is obtained through the use of high quality materials, a superior design and improved construction. The efficiency improvements of all fans manufactured by Jan Fan translate into substantial energy and dollar savings.
Energy Saving Module
Jan Fan has gone a step further in creating the most energy efficient industrial air circulators on the market. The company has developed NEW Energy Saving Technology that actually turns fans off… more
Product Specification Data
A test report was carried out to measure air delivery as well as sound levels, guard spacing, angle of tilt and height in 3 Jan Fan models… more